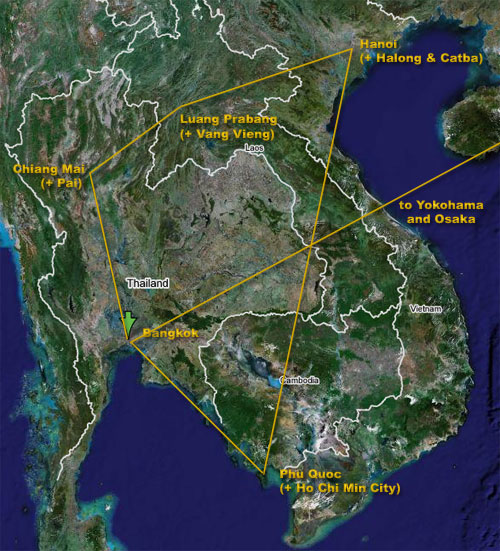 Well, I've been pretty busy the past week or so. Last weekend, after talking to my friend, bodyguard and travelling companion, Janelle, we decided to skip Thailand's Aussie-packed beaches and instead some more of Southeast Asia.
My last trip (to Australia and New Zealand) was kind of about traveling around by bus, car, SUV, ferry and train, spending each night in a different place. This time, I wanted to pick a few places and spend enough time in them to get to know them. And flights in SE Asia are fairly inexpensive — you can see a lot of countries for the price of a round-trip ticket from Vancouver to Montreal.
And so, my free time for the past week or so has mostly been about researching, booking, planning and replanning. But now, at last, I think I can tell you my itinerary.
December 17

Arrive in Bangkok. Sleep (it's an 18-hour flight with a 14-hour time difference).
December 19

Take the train to Chiang Mai, an ancient city in the mountains or Northern Thailand, with walls, moats, old temples, and the like. There are lots of things to see in the area, too, like the laid-back little town of Pai.
Christmas Eve

Fly to Luang Prabang, Laos. It's a UNESCO World Heritage City, which I gather is a good thing to be. There's a backpacker-oriented town nearby called Vang Vieng.
New Year's Eve

Fly to Vietnam for NYE in Hanoi. That should be interesting. Nearby are Halong Bay and Catba Island, which look astonishingly pretty.
January 3

Down to the Island of Phu Quoc, just south of Cambodia, for a few days. Apparently, the island is lovely, and still somewhat undeveloped — I could only find about ten promising-looking places to stay, several of which had rooms available.
January 7

Back to Bangkok! This time, to check it out properly for a couple of days.
January 10

Off to Japan. I need to change my ticket still, but the plan is to spend a couple of days in Yokosuka and a couple in Osaka, hanging out with various transplanted Saskatchewanians.
January 15

Back to Canada, a little richer and much more annoying for my experiences.