This site is the place to find me if you're looking, and occasionally a place for me to sound off on work, my life and travels, and my obsession with weird old movies.
Email: eric@haikufactory.com
Instagram: @misterwindupbird
Letterboxd: mrwindupbird
☕️ ☕️ ☕️
Recently (august 2020)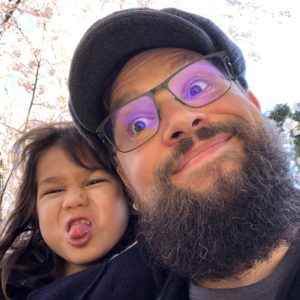 Needless to say, I have not been getting out much (though we were able to visit with the fam on Vancouver Island). In the interim, my movie catch-up project has turned into kind of a micro-blog.
Game: Golf on Mars (iOS)
Comic:R North, E Henderson, et al; The Unbeatable Squirrel Girl
Non-Fiction: S Fuller, A Third Face: My Tale of Writing, Fighting, and Filmmaking
Fiction: N K Jemisin, The Fifth Season
Podcast: The Greatest Generation.
TV: Peep Show, all (rewatch)
Restaurant: Black Bird Schnitzel Haus, 3298 Island Hwy W, Qualicum Beach, BC (take-away)
Drinks: Main Street Brewing Co., 261 E 7th Ave (delivery)
Coffee: 49th Parallel Coffee, 2902 Main St (delivery)
Last Great Movie: My Dinner with Andre (dir L Malle, 1981)
Last Good Movie: Sans Soleil (dir C Marker, 1983)